About us
OWIT-Ottawa is a chapter of OWIT International.
Established in 1989 at an inaugural board meeting held in Los Angeles, OWIT International is a voluntary non-profit professional of women and men involved/interested in international trade and business.  OWIT International serves as the unifying body of a growing network of chapters located in the Americas, Europe, and Africa.OWIT International also supports a virtual chapter for individuals involved in international trade and business who do not have access to a localOWIT International chapter where they reside or work. Membership in a local or the virtual chapter gives automatic access to the OWIT International network.
OWIT International's values and philosophy embrace its mission statement:  United around the globe to foster international trade and the advancement of women in business.
OWIT International's network provides a collective forum to support education, to facilitate information exchange and to promote networking. In pursuing these goals, OWIT International strives to provide a rewarding volunteer environment, to stay at the forefront of trade and technological developments, and to build partnerships and alliances with peer organizations and associations.
OWIT International establishes strategic alliances with organizations that complement OWIT's mission. Several partners offer benefits to OWIT International members, thereby enhancing the value provided to members. Current strategic alliances:
WEConnect International
A corporate-led non-profit, WEConnect International helps build sustainable communities by empowering women business owners to succeed in local and global markets and to tap into global supply chains. Currently, WEConnect International is supporting women business owners in over 70 countries by providing business education, certification, and business connections to companies based outside the United States that are at least 51% owned, managed and controlled by one or more women. OWIT International provides WEConnect International members with access to training and information on doing business internationally.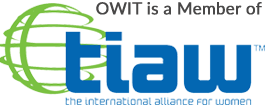 The International Alliance for Women (TIAW)
OWIT International is a member of  The International Alliance for Women (TIAW). TIAW advances the economic power of women through its network of member organizations and World of Difference award-winners from around the globe including Africa, the Americas, Austral-Asia, Europe, the Middle East and Oceania. It engages with programs, events and webinars that present each member the opportunity to broaden personal networks and deepen leadership capacity. All OWIT International members are automatically members of TIAW and gain access to its network of women professionals around the world.
The Global Summit of Women
OWIT is a partner with the Global Summit of Women, an annual global gathering of 1,000+ women leaders (senior government officials, CEOs, business executives, entrepreneurs and NGO leaders) with the overall objective of advancing women's economic lives and to ensure global prosperity. OWIT members receive a discounted member rate.
More information is available at http://www.owit.org/